What is Serum Foundation?
Serum Foundation is the perfect combination and balance between a serum with ingredients that hydrate and treat the skin, with a touch of colour and makeup.
They range from light to medium-high coverage. What we love about these foundations is that they not only leave your skin perfect at the moment but because of its properties, it also benefits it in the long term.
You can find it from different brands. If you are a fan of Armani, Perricone, Bobbi Brown, The Ordinary, Clarins, etc., you will love it.
Furthermore, each one has different purposes, so if you want to know which is the perfect serum base for you and your skin type.
7 Best Serum Foundation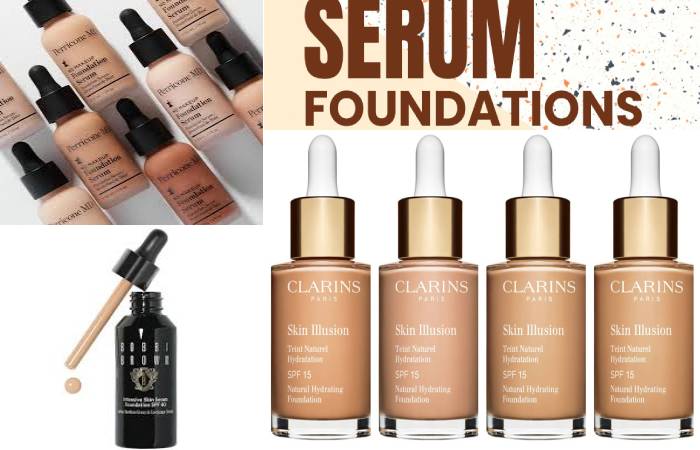 1. No Makeup Foundation Serum Broad Spectrum
If wrinkles worry you, this foundation will work for you thanks to its neuropeptides, which minimize fine lines' appearance.
It is also excellent for reducing blemishes, as it has daisy flower extract and great-grandfather, which lighten and equalize skin tone.
Its natural finish protects the skin with its SPF of 20 (remember that this does not replace your sunscreen).
2. Skin IIIusion
It is perfect for all skin types. Its texture is light, so much so that you won't feel like you have makeup. It gives a natural, fresh and healthy finish.
It has red Jania extract and organic kalanchoe, which keep your face hydrated and luminous. As the days go by, you will see more of the change.
3. Intensive Skin Serum Foundation
If you need to hydrate and continue collagen production, you must give it a try. Leaves your skin smooth, firm, and soft.
It has extracts of lychee, cordyceps mushroom, and bamboo grass that affect youth, glow, and freshness to your skin.
And also, it doesn't feel heavy at all and helps combat dark areas.
4. Nude Air Serum Foundation
Ideal if you like makeup, no-makeup look. This base is super light and acts on the skin giving it sun protection, hydration, and luminosity.
Thanks to the Oxygen Activ technology, its benefits are a mixture of vitamins, minerals, and moisturizing oils.
5. True Skin Serum Foundation
It has light coverage and is perfect for all skin types, leaves a velvety and smooth finish, thanks to its excellent combination of active botanical ingredients.
It has aloe, rosehip, jojoba oil that helps hydrate, diminish expression lines, and make your skin look uniform and glowy.
And also, you will see the changes when you use it regularly.
6. Colours Serum Foundation
Whether you should use oily or combination skin, this foundation will give you the finish you need. It's not entirely matte, but it doesn't leave your skin greasy either.
And also, treats fine lines and makes them diminish with use. It has nanoparticles that protect against sun damage.
7. Master Fusion Makeup
Not for nothing is the favourite of many celebs. This base inspires by the thinnest and softest textile that exists.
And also, it has a matte finish without leaving the skin dry.
It contains lotus oil, which is known for its excellent properties, gives elasticity, and reduces wrinkles.
How to Apply the Serum Foundation?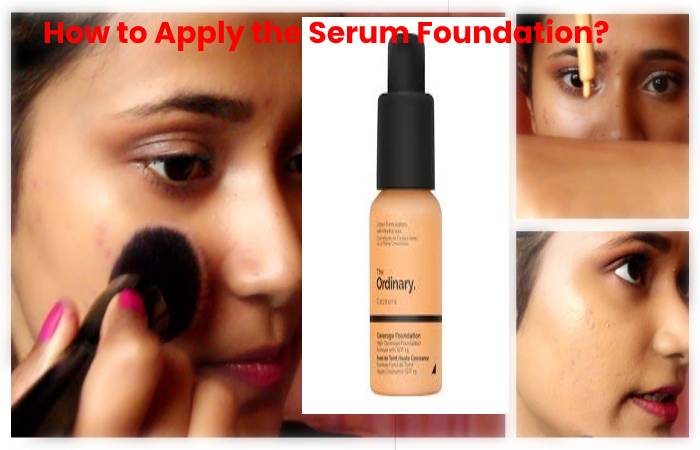 And once we have our makeup base, it is time to apply it correctly. We explain how to do it in 6 easy steps:
Firstly, before making up your face, you must prepare your face and perform facial cleaning because the look has to be prepared and clean before starting to apply the makeup base. And also, wash your face thoroughly or use your cleansing milk or gel (for people with oily skin) and toner. We will ensure that the makeup does not crack over the hours, and you can apply it more comfortably.
When your face is spotless, what you should do is apply your moisturizing cream and distribute it well with a massage all over the face.
Later you can apply concealer in the areas that need it on your face. And also or use a primer to smooth skin and seal blemishes.
After cleansing, toning and hydrating your skin, it is time to apply makeup base. And also, for this, you can use latex sponges, synthetic hairbrushes, or even your fingers. We explain the advantages of doing it one way or another:
If you have skin with blemishes, acne, blackheads, or dark circles, give the second pass in these areas with a correction brush.
Finally, we recommend that you seal the base with filling powder or translucent. With it, you will avoid that the skin looks greasy and that the makeup runs. Apply it with a tassel, and you will get an even coat.
Conclusion
We love about these foundations because they leave your skin perfect at the moment, but because of its properties, it also benefits it in the long term.
And also, its smooth finish hydrate and treat the skin with a touch of colour and makeup.
Also Read: What is Calcium? – Benefits, Function, Precaution, and More