No matter how much you enjoy your career, your work day can be challenging. Whenever you are stuck in a rut or need inspiration, check out our practical ideas for improving your day. Our tips help make your day feel more productive and rewarding. With a few of our tricks, you may improve your workflow or find your day goes by faster!
Bring Helpful Accessories 
The average American works more than 38 hours per week. Much of this time is away from home in an office or a mobile workplace. Are you feeling out of your comfort zone? Seek out accessories to make your day more comfortable. A pair of stylish blue light reading glasses will help prevent harmful blue light from screens and prevent digital eye strain. Whether you like the playful, feminine appearance of cat-eye glasses or how round-shaped glasses look with your professional attire, your blue light-blocking glasses will help prevent headaches and eye fatigue during a long day.
If you need magnification, try wearing a pair of reading glasses. These days, you can get the reading glasses strength you need with the help of an at-home vision test. Or shop for progressive lenses for seeing near and far and far away. Modern eyewear comes in flattering frame shapes featuring vibrant colors and inspiring patterns. As a result, you'll feel more comfortable and confident while working on your screen.
When you finish shopping for eyewear, consider a brighter and more attractive LED desk lamp. Add warmth and illumination to your desk, all with a beautifully designed light in a gorgeous color. An adjustable desk or laptop tray can help to create a more comfortable ergonomic workspace. Desk organizers can help to declutter your office or cubicle. Relieve stress on your feet with an anti-fatigue desk mat, or add another computer monitor if you need to review complex projects or spreadsheets.
Create a Relaxing Space
To relieve stress at work, create a relaxing work area. There are many ways to unwind and feel a sense of peace at your desk. A live plant will infuse more oxygen into your workspace while letting you gaze at something beautiful and natural. As you take care of the plant and watch it thrive, you'll discover a feeling of accomplishment.
Aromatherapy can help to set a relaxing mood, no matter the time of day. Start your morning with lemongrass and sweet orange essential oils in an essential oil diffuser, and then switch to calming lavender and bergamot in the afternoon. If you share a space with someone else, buy a personal diffuser. They often come in the form of a bracelet or necklace to enjoy your share of restful or energizing scents. Incorporate soft lighting to make the room feel more tranquil. Dreamy instrumental music or nature sounds can help to create even more peace for a long or challenging workday.
Finally, consider the element of color. Can you paint your walls another hue? Choose your favorite shade of calming blue or green. Pink can help to soothe and balance energies in a workspace, while white is clean and tidy. If you can't paint the walls, add a pop of color with office furniture or decorative accents. Lavender and violet evoke a sense of tranquility and wisdom, while shades of gray have a relaxing and cooling effect.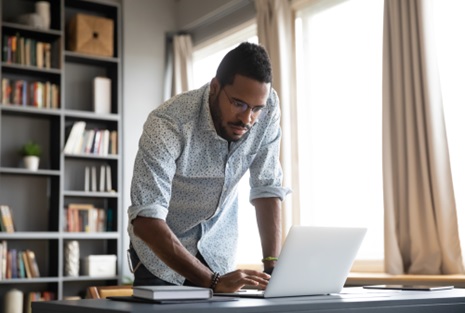 Prioritize Your Tasks 
Many of today's employees and business owners wear multiple professional hats. When you have an extensive to-do list, it helps to break it up into urgent (and not-so-urgent) tasks. We recommend color-coding your list to help you focus. Begin with red and orange task lists to help illustrate what you should do today and what can wait. Yellow or green items are set for completion when you finish your red and orange lists. With this simple approach to your most important projects, you can decide what to do first.
Having a plan first thing in the morning can make the day smoother. A priority list can also help ensure you don't miss the essentials. If you're having trouble completing a task, ask for help. Communicate with your clients or co-workers to adjust your plan of attack. Remember, changing the priority level or removing items from a list is okay. Be honest about what needs handling and what can wait.
Set Boundaries
It's okay if your professional role feels difficult or complex. After all, a challenge can be exciting! However, pay close attention to feelings of excess stress and overwhelm. These emotions mean it's time to set boundaries. Personal boundaries are physical and emotional limits you set for yourself.
Boundaries are just important in your personal life as they are in your career. Most importantly, they're based on your needs, not someone else's. In the workplace, boundaries will be unique for everyone. Don't worry if yours don't match others. Instead, pay attention to how you feel during your workday.
Focus on how you feel when you collaborate with your co-workers and superiors. If you feel tense in specific interactions or while working on a task, it's time to check in with yourself. Try journaling or meditating. You may need to cap your work hours or cut back on overtime. Don't hesitate to speak up if you need assistance with a project or a critical report. Your awareness and honesty can be an asset to the team.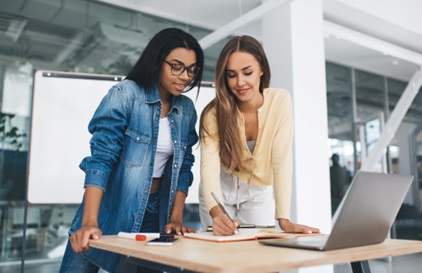 Inspire Your Professional Life
Treat yourself as your favorite employee and make your workday more relaxing. Start with the accessories and essentials you need to complete your day, like ergonomic desk items and reading glasses. Then consider how you can make your office or cubicle more serene. A peaceful and practical approach to your work area will make it feel more like a chosen space. Finally, consider how to handle your tasks and boundaries more efficiently. Straightforward communication and a focused effort will help your day go by easier and faster. You'll enjoy your career even more with a few simple adjustments!