Nurses are among the most essential professionals in society. As frontline workers, you provide a vital service to our communities. You do so with a level of dedication not seen within most other professions. In addition, nursing is one of the few professions that allow people to act selflessly and altruistically while still getting paid. And even though as a nurse you're often working long shifts under stressful conditions, you still manage to take excellent care of your patients.
But while you are so good at taking care of others, you may not be as good at taking care of yourself. In fact, many nurses neglect their own health and well-being in favor of their patients. This can lead to burnout, compassion fatigue and a host of other problems.
And you and your fellow nurses are certainly not immune to the dangers of long work shifts with extended hours that can take a toll on your skin. This can lead to dryness, wrinkles, acne and aggravation of existing skin conditions like eczema and psoriasis.
Caring for your skin during long nursing shifts may seem like a low priority, but it's actually crucial. After all, your skin is your largest organ, and it's the first line of defense against infection. So reach for your favorite skincare routine set, put on some gloves and let's get started!
Before Your Shift:
Sometimes a good defense involves being proactive. So caring for your skin during your shift will start before you even clock in.
Hydration – Setting yourself up for success starts with something as simple as water. Be sure you're starting your workday off adequately hydrated. This will help keep your skin healthy from the inside out and flush out toxins.
Of course, we're not recommending you drink so much water that you have to run to the bathroom every 10 minutes. Still, we know that often things get hectic not allowing you to consume the liquids you need while working. So getting a jumpstart on your hydration before work will help alleviate some of the skin problems you may experience later on.
Cleanse and Remove Makeup – You should remove all makeup before starting your shift. This will help to ensure that your skin can breathe during your transition. In addition, pores will be less likely to clog, especially under PPE, if you start your shift with a clean slate. Some nurses like to use micellar water to quickly remove their makeup. Others will reach for an oil cleanser for their makeup and a cream cleanser to finish the job.
Source: Tinatin/Shutterstock.com
Moisturize – Nurses often have to wash their hands multiple times throughout their shift, which can lead to dry, chapped hands. But your hands aren't the only parts of your body that can become dry during your shift. So it's essential to moisturize your skin every day, especially if you're working long hours. Apply a light moisturizer all over your body, including your face. Then, choose a heavier formula for particularly dry areas like your hands and feet.
Also Read:- Businessslash
During Your Shift
When it comes to being on shift, you know what countless hours of wearing masks, face equipment and other PPE items will do to your skin. Issues like friction, dryness and acne can all plague nurses during their shifts. Not to mention bruising and worsening pre-existing problems like eczema and psoriasis. But with a few simple steps, you can help keep your skin healthy and looking its best.
Barrier Creams and Products – A barrier cream or product you put on your skin to protect it from things that might make it irritated. This can be useful for nurses like you. First, they can help to keep your skin from becoming too dry. They can also help protect against the friction caused by wearing masks and other PPE items.
Petroleum jelly and zinc-oxide-based products will work, as well as a hydrocolloid dressing like Duoderm. Just be aware that overuse of these may clog pores, so you're trading one issue for another if you're not washing your face regularly. That brings us to our next point.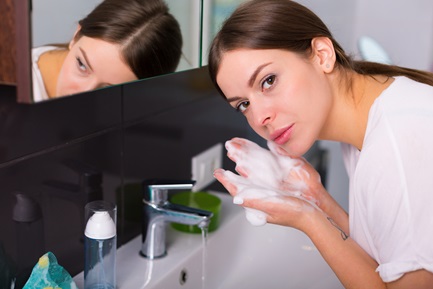 Wash and Moisturize Your Face – It may seem like a no-brainer, but washing your face during your shift can help to remove dirt, sweat and oil that accumulate throughout the day. This will help to prevent breakouts and keep your skin looking fresh. First, use a gentle cleanser and lukewarm water to avoid drying out your skin. Then apply a light moisturizer to your face to keep it hydrated.
Protect Your Skin from the Sun – Nurses who work outdoors or in well-lit areas are at risk for sun damage. Be sure to apply sunscreen with an SPF of 30 or higher to exposed skin. Reapply every two hours, or more often if you're sweating or swimming.
After Your Shift
The best way to care for your skin after a long shift is to continue to hydrate and moisturize. Drink plenty of water, eat healthy foods and moisturize your skin. You may also want to use a gentle exfoliator to remove dead skin cells and give your skin a fresh start. Just be sure not to overdo it, as over-exfoliation can also cause irritation.
Final Thoughts
So, these are just a few tips to help you take care of your skin during long nursing shifts. We know that it can be tough to find the time to take care of yourself when constantly taking care of others. But we hope that these tips will help you to make the most of your cruelty-free skincare products and valuable time. So, please take care of yourself so that you can continue to take care of others. Thanks for everything you do, nurses! You are the backbone of the medical profession.