The holidays are a stressful time for everyone, which means that now is the perfect time to give the gift of self-care to your friends, family, and other loved ones. If you're not sure where to get started with shopping, we've rounded up our favorite self-care products for 2022 — from facial peels to white noise machines and matching loungewear sets. Here's what should be on your self-care shopping list this season:
Luxe Loungewear
Matching loungewear sets are a big fashion trend for 2022, and we're totally here for it — especially since so many of them are cute enough to be worn outside the house. Browse a variety of loungewear styles, from luxury cashmere knits to soft recycled cotton sweats, to find a color and fit that will perfectly suit your recipient's tastes. While you're at it, don't forget to consider pajamas, robes, slippers, and other loungewear and sleepwear items for the ultimate self-care gift.
Specialty Pillows
The gift of a good night's sleep is one of the best self-care presents that someone can ever receive. To that end, we're big fans of gifting specialty pillows that help people sleep comfortably, whether that's neck pillows for frequent travelers, leg pillows for side sleepers, or wedge pillows for people struggling with acid reflux. If your recipient is happy with their standard-size pillows, then give them an upgrade with a silk pillowcase that will leave their skin and hair looking great in the morning.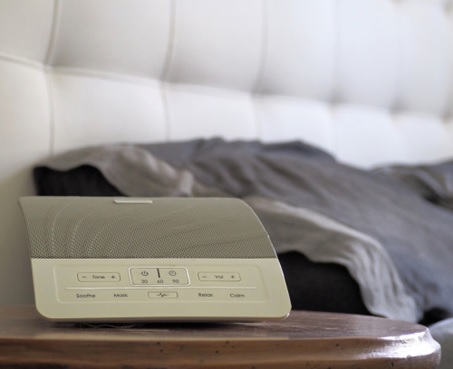 White Noise Machine
Speaking of a good night's sleep, a white noise machine is a must for people living in noisy areas. White noise machines play soothing background noises that help you fall asleep and stay asleep. Some also come with other functions, such as a sunrise alarm clock that slowly wakes you up by mimicking the natural progression of a sunrise, making it the perfect self-care gift for the person who already has everything.
High-End Skincare Products
Is there a higher form of self-care than doing a thorough skincare routine? We don't think so! To truly help your recipient relax, give them premium skincare products from a luxury brand that will pamper their skin. Glycolic acid face peels and heavy moisturizers are always a good choice for the winter months, while 3-step skincare sets featuring travel-size minis will let them try out multiple products at once without committing to the full size.
Bath and Shower Accessories
The face gets a lot of attention, but don't forget about the rest of the body! Bath and shower accessories of various kinds are another fantastic gift idea for people who need a little more self-care in their lives. Choose a luxurious set of body wash and lotion, or grab some bubble bath bombs if your recipient is fortunate enough to have a bathtub. Accessories such as bathtub trays are also an excellent option for people who are picky about the skin and bath products they use.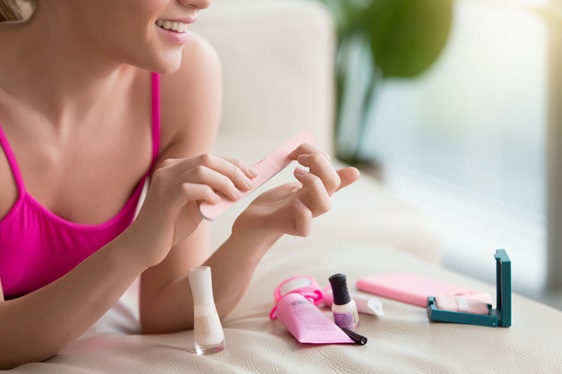 At-Home Mani-Pedi Set
If your gift recipient loves to get their nails done but can't always find time to go to the salon, then they will surely appreciate an at-home mani-pedi kit. Obviously, there are plenty of manicure kits featuring your standard polish, but thanks to advances in technology, you can now get at-home gel nail kits as well! These kits combine special nail polishes with LED light devices to get professional results in the comfort of your own home.
Humidifier
Dry winter air can really do a number on your skin, causing it to dry, crack, and even bleed. Humidifiers put water back into the air to soothe stressed skin and help it stay hydrated all winter long. Choose from a cold or warm mist model depending on your recipient's preferences, and be sure to choose a design and color that will complement their home decor so they can leave it out on their nightstand..
Heated Pads and Blankets
There's nothing like a heated pad or blanket for staying warm and cozy during the winter months. For more targeted relief for aches and pains, we recommend portable heating pads designed for the back, shoulders, knees, and more. If you're looking for overall warmth, opt for a heated blanket or mattress pad that will help your recipient stay cozy all night long without running the heat on high.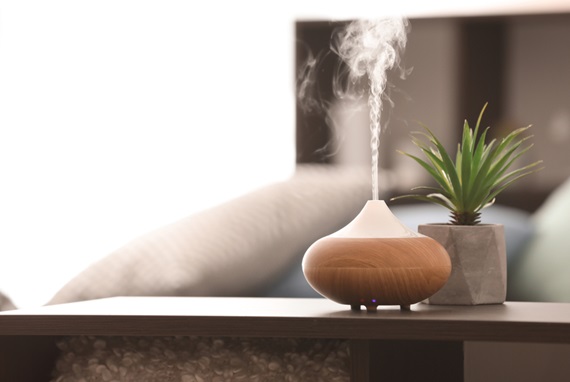 Candles and Essential Oil Diffusers
There's something so relaxing about a delicious-smelling candle, which is why we couldn't make a list of self-care gifts and not include them on this list! If you're looking for an upgraded idea, consider giving an essential oil diffuser with a set of starting oils instead. Diffusers mix scented oil with water and mist it into the air for a long-lasting, flame-free fragrance. Many come with an auto-off function so you never have to worry about leaving it on.
At-Home Massager
There's no denying that getting a massage is super relaxing, but it can be hard to get away for an appointment — not to mention the expenses rack up quickly if you go often. That's why an at-home massage device is a gift that keeps on giving! These come in all sizes and price points, from an affordable massage roller that's perfect for a stocking stuffer to an expensive electric massage gun.
Journals and Guides
For the readers and writers on your list, consider getting them a guide or journal related to self-care. This can take many different forms, from a journal filled with meditation prompts to a how-to guide that explains different yoga poses. Tailor this gift to your recipient's interests and consider pairing it with another item on this list (such as a candle) for an excellent self-care gift.
What self-care gifts are on your shopping list for 2022? Do you have any self-care gifts that you have personally received and loved? Let us know in the comments below!