Face Masks Definition
Face masks are the perfect skin care treatment to help you with your skincare concerns. The right face mask can aid hydrate skin, remove excess oils, and improve your pores' appearance. They're also the best way to help pull out impurities.
The skin is a very particular organ, it is not only the largest in your body, but it is your armor against all external factors.
The skin of your face expose daily to the sun, rain, and pollution, in addition to some cosmetic products and face masks that serve to reduce its deterioration and aging. It would help if you gave it deep and constant care.
One way to take care of the skin on your face is by applying masks that will help you repair it and keep it hydrated, soft, and young.
What is the Preparation of Face Masks?
Before applying any mask, regardless of your skin type, you must make sure that your complexion prepares so that you can take full advantage of all the benefits of the care you are about to give your face.
Whether you will apply a mask or not, this step should be a sacred habit in your day.
We know that many times, after a long day, we prefer to go straight to bed because we think that the ritual of removing makeup or cleaning requires a lot of time and effort.
In these cases, please remember that it will not take you more than 5 minutes, which, in the end, are a moment in which you dedicate all your love to yourself.
You can clean yourself quickly and easily (as long as you have the right products), and your skin will thank you tomorrow.
Give yourself this short time to pamper yourself. The only thing you need is clean hands, a little cleansing milk (that does not alter your pH and, preferably, is made with natural products), and a piece of cotton.
Start with a gentle movement from the inside out and upwards; thus, you will contribute daily to the toning and firm face.
You must be especially careful when removing makeup from your eyes. Soak a cotton ball and place it for a few seconds on the closed eyelid.
You shouldn't rub or scrub, wipe it gently to pick up the eye and lash makeup.
Remember that you must perform this cleansing step to prepare your skin before applying any mask, even if you haven't put on makeup.
To clean your makeup removed, you can use a very mild soap, baby soap, oatmeal, and rinse with warm water.
What are the Types of Face Masks?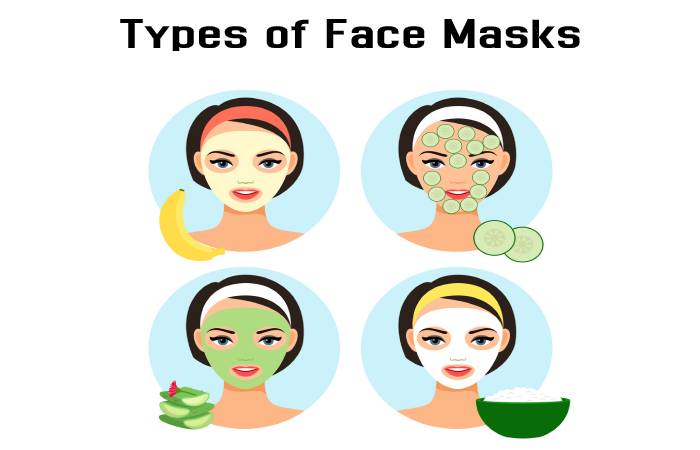 Now yes, let's get down to business. We will show you the best masks to choose the best one for you, depending on what you want for your skin.
We will talk about four types of masks: moisturizing, exfoliating, to combat spots and blemishes and to combat wrinkles and dark circles.
1. Moisturizing Masks
Moisturizing masks help you nourish and keep your skin radiant. They prevent the dermis from losing moisture and stimulate the natural process by which the blood provides the amount of water necessary for the skin to be healthy.
Top 3 Moisturizing Masks:
Strawberries and honey,
Banana,
Cucumber
2. Exfoliating Masks
Exfoliating masks help clear your skin, rid it of impurities, acne, and blackheads, removing all accumulated dead cells to provide more sumptuous softness and shine to the complexion. The exfoliation activates the microcirculation of the area. It allows the skin to carry out its cell regeneration process in the correct way to show off a more oxygenated and youthful dermis. Any treatment you do after exfoliation will work much better since it will penetrate the dermis in a better way.
Top 3 Exfoliating Masks:
Almonds,
Calendula and Oats,
Coffee
3. Masks to Combat Spots
The spots on the face can appear due to different factors, from sun exposure to the skin's natural aging. These masks are ideal for you if you want to reduce the appearance of spots and avoid the appearance of more.
Top 3 Masks To Combat Blemishes And Blemishes:
Honey and Lemon,
Cucumber and Parsley,
Aloe Vera
4. Masks to Combat Wrinkles and Dark Circles
If you feel that your skin is a little tired or exhausted, or that for different reasons, your face does not look young and fresh, here we recommend the 3 best masks to relieve the appearance of wrinkles and other signs of aging or aging fatigue.
Top 3 Masks To Combat Wrinkles And Dark Circles:
Fennel and Yogurt
Oatmeal and Yogurt
Marijuana and Kiwi
Also Read: Red Wine – Definition, Benefits, Types, Fermentation, and More
Best 12 Homemade Face Masks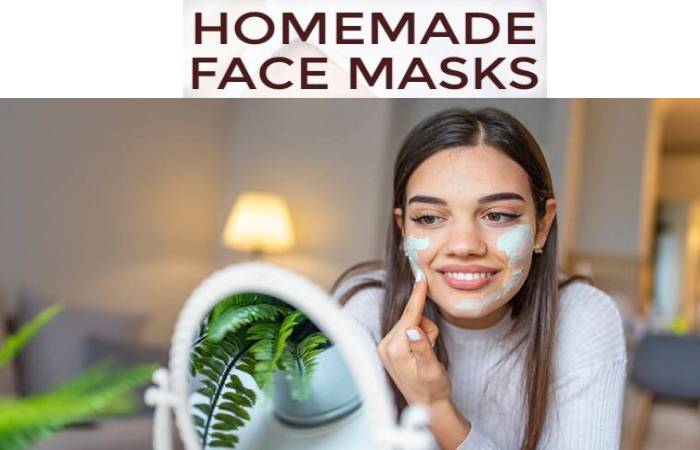 1. Strawberries and Honey
Take 4 or 5 ripe strawberries and puree with a fork.
Then add a tablespoon of honey and mix well. When you have the paste, apply it on your face and leave it to act for 20 minutes.
Finally, remove it with cold water.
Both strawberries and honey soften the dermis, nourishing it and stimulating the production of collagen.
2. Banana
Prepare a ripe banana puree. Then, lightly apply this mixture on the face avoiding contact with the eyes. If your skin is dry, you can add a little honey to the mix.
Let on for 20 to 25 minutes, and then wash off with warm water.
Your face will instantly feel smoother since banana contains many antioxidants and manganese that protect the skin and leave it younger and hydrated.
3. Cucumber
For this mask, take a cucumber, cut it, and then crush it until you get a kind of paste.
Spread this paste over your face and let it sit for 15 minutes to take effect.
Finally, remove it with cold water, and you will see your skin fresh.
The cucumber has an OK vitamin E, water, and natural oils that serve to hydrate it and fill it with vitality.
4. Almonds
Take 2 almonds and grind them until they reduce to powder. Then, mix this powder with a tablespoon of honey and a tablespoon of lemon juice.
Apply this mixture to your face with gentle circular movements and leave for 15 minutes.
Finally, remove it with warm water.
Almonds have a high content of vitamins A, B, and E, and proteins and minerals that help nourish the skin, providing elasticity and leaving it very soft.
5. Calendula and Oats
First, you must boil 5 marigold flowers in half a glass of water.
After the water cools down, take 4 tablespoons of rolled oats and dip them in until you see it sponge.
Once the flakes are puffed, put the oatmeal on your face and leave it for 20 minutes.
After that time, massage the skin gently and, finally, remove it with warm water.
Oatmeal is an exfoliant with the property of gently extracting all impurities from the skin and calendula water and tone the skin; it is anti-inflammatory and helps reduce acne.
6. Coffee
All you have to do is take many face moisturizer and mix it with coffee grounds.
Apply this mixture to your face using gentle circular movements, let it sit for 20 minutes, and remove it with warm water.
Coffee is not only an exfoliant that removes dead cells, but it is also lipolytic.
That is, it burns fat and, therefore, helps fight cellulite so that you can use this mask for other areas of your body such as legs and thighs.
7. Honey and Lemon
You must mix a tablespoon of honey and a tablespoon of Lemon. Using a cotton pad, apply the paste to your face, and let it sit for 15 minutes.
After this time, remove with warm water. Lemon helps reduce blemishes; it is an excellent astringent and regulates pH.
Still, it must be applied at night and must remove very carefully since its exposure to the sun generates spots on the skin.
If your skin is susceptible, it is better that you avoid ingredients as healthy as this one.
8. Cucumber and Parsley
Another option to treat stains is this simple mask.
You only have to crush half a cucumber and mix with a little parsley and a few tablespoons of sesame oil.
Parsley brightens the complexion and reduces blemishes, and sesame oil (sounds weird, but it's the same as sesame oil) is one of the most powerful natural oils, revitalizing, hydrating, and hiding the effects of aging on the skin.
9. Aloe Vera
For severe stains, you can use this mask. All you have to do is mix a glass spoonful of aloe vera with half a teaspoon of lemon juice.
And also, beat these two ingredients until well mixed.
Apply the mixture directly to the stains and leave it for 20 minutes.
Finally, remove with warm water.
Aloe vera has a high content of minerals such as calcium, phosphorus, potassium, zinc, and magnesium, which help the skin intensely nourish.
Not only is it high in saponins, which penetrate pores and remove dirt, it also helps quickly remove dead skin cells and encourages healthy skin growth.
10. Fennel and Yogurt
Mix natural yogurt with a tablespoon of fennel seeds and leaves of the same plant.
After obtaining a homogeneous cream, you must apply it to your face and leave it to act for 20 minutes.
Fennel is rich in vitamin B3, folic acid (vitamin B9), provitamin A, vitamin B6, and various minerals such as iron, calcium, potassium, phosphorus, and magnesium.
Its content makes it an excellent ingredient to promote skin elasticity and eliminate dark circles, bags, and wrinkles.
11. Oatmeal and Yogurt
You should only mix 1 tablespoon of well-ground oatmeal, 1 tablespoon of natural organic yogurt, and a few honey drops for this mask.
Please apply for the show, leave it on for 10 minutes, and rinse with warm water. You can use it regardless of your skin type.
Yogurt is an excellent natural moisturizer, it helps cleanse the skin of dead cells, and it can uses even by people with very sensitive or dry skin.
12. Marijuana and Kiwi
This mask is straightforward to do. You should take about 10 marijuana leaves, two kiwis, and a little face cream.
Mix all the ingredients until you get a uniform paste and apply it on the face.
Set it on for 15 minutes and remove with warm water.
Marijuana or cannabis is an excellent ingredient for our skin, as it has a large amount of vitamin E, which makes the dermis look young, healthy, and smooth.
It has many antioxidants, so applying a cannabis cream or lotion regularly can help us maintain fresh skin and avoid wrinkles naturally.
Advantages of Homemade Face Masks
In the market, you can find several face masks that will help you maintain beautiful skin. However, there are few cases in which you can unequivocally know if the product meets the standards that satisfy you (in terms of toxicity, healthiness, preparation, experimentation, etc.).
Therefore, we think that homemade masks are an excellent option. And also, Among the most significant advantages of homemade masks, we have to:
You make sure that the ingredients you are applying to your face are natural;
You know precisely what benefits it brings to your skin;
Have transparent preparations without toxicities;
No one will do it with more love.
Conclusion
Several face masks that will help you maintain beautiful skin.
One way to take care of the skin on your face is by applying masks that will help you repair it and keep it hydrated, soft, and young.
Also Read: Chayote Squash – Definition, 10 Excellent Health Benefits, and More