Orange Blossom Water Definition
Orange blossom water is a natural origin product that has become popular as a supplement for skincare.
It obtains from the steam distillation of orange blossom petals of bitter orange ( Citrus aurantium ), characterized by having a pleasant and light aroma.
This water use in various pastry preparations, including syrups, muffins, and cakes. Also, medicinal benefits are attributed to it, although there is little evidence.
In any case, today, it is marketed in pharmacies and cosmetic stores as a complement for facial care.
How to Skincare with Orange Blossom Water?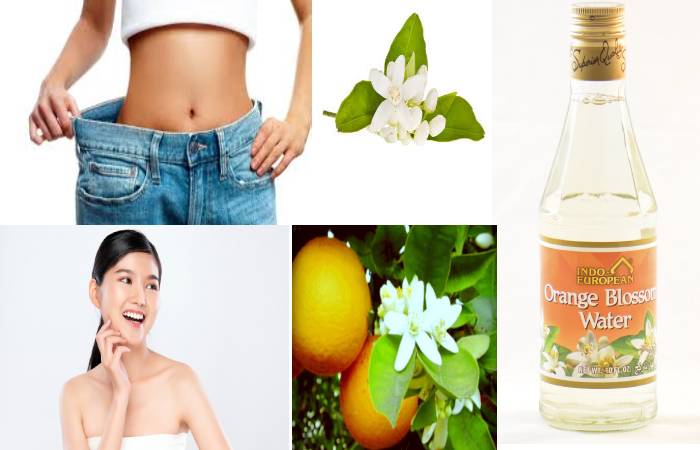 This process purifies the petals of the bitter orange blossom in water.
A product that concentrates phenolic compounds and vitamins and minerals, as shown in a review published in Oxidative Medicine and Cellular Longevity.
Specifically, its active principles include:
Neroli essential oil (or 15%)
Petitgrain essential oil (0.15%)
Organic acids (citric, malic, ascorbic)
Sugars
Pectins.
Due to this composition, it is not surprising that orange blossom water serves as an ally for the skin's beautification.
Although it is not a magic product or anything like that, it is an excellent option to keep the skin soft, hydrated, and free of impurities. Let's see in detail its properties.
1. Hydrates and Refreshes
Orange blossom water is an ideal product to hydrate and refresh the skin.
It is suitable for all skin types, including sensitive and delicate—recommended moisturizing in dryness, peeling, or dull appearance.
It can also be a good option in case of eczema and allergies. However, in these cases, it must consider it is not a first-line treatment and only temporarily the discomfort te.
The dermatologist should treat any skin condition.
2. Cleanses and Regulates Excess Fat
This lotion is not only good for dry skin but also those with excess oil production.
Astringent properties attribute to it, and, therefore, its application helps remove excess sebum secreted by the sebaceous glands in people with this problem.
By the way, it cleanses and reduces the presence of germs on the skin's surface, which reduces the risk of problems such as acne.
Likewise, it mattifies and reduces that shiny appearance that makes dirty skin look.
3. Helps Protect the Skin
Due to its content of phenolic compounds, substances with antioxidant effects, orange blossom water protects the skin from the impact of UV rays from the sun and free radicals from the environment.
Thanks to this, its regular use complements habits to reduce the risk of premature aging.
Orange blossom water may reduce the shiny appearance of skin that makes it look dirty.
Uses of Orange Blossom Water
There are several ways to use orange blossom water for skincare. It often operates as a toner at the end of the skin cleansing process.
In this way, it removes impurities from the pores and leaves a more hydrated appearance. Its use can be in the morning, before using other cosmetics, and at night before going to bed.
The best way to use it is by moistening a cotton pad; This is then rubbed gently all over the face, neck, and décolleté.
It can also be placed in a spray bottle to spray on the face before makeup. Thus, after drying, it helps cosmetics to set more quickly.
Other times to use it include shaving, on hot days, when there is excess shine, before irritation or redness.
Orange blossom water can contribute to maintaining healthy skin due to its properties. However, if you have any skin problems, better consult your dermatology professional before trying this product.
What are the Benefits of Orange Blossom Water?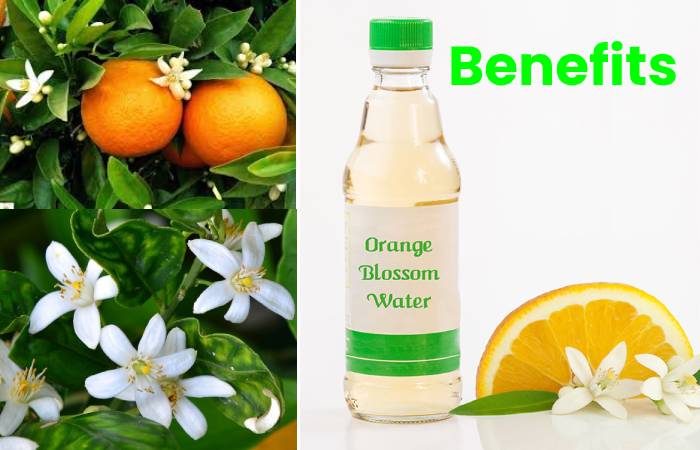 It is easy to believe that orange blossom water is made from the flowers of the orange tree. However, this water is a by-product of distillation from which aromatic oil obtain.
It produces from the leaves, pulp, peel, seeds, and bark of the tree. The oil produced is known as fragrant neroli oil. Certain parts of the oil separate, exploiting its hydrophilic qualities, which means that they are soluble in water.
The result of this process is the orange blossom water, although the term by which it knows in herbalism and aromatherapy is "floral hydrosol."
Orange blossom water calming when adding to bathwater. Because it only contains the purest essence of the oil, it is safe to apply to the skin without diluting it.
1. Culinary uses
In Europe, cooks add flower water to cakes, puddings, and other baked goods. It is particularly prevalent in Middle Eastern cuisine.
It adds a delicate aroma to your sponge cakes, a type of bread usually served with butter and fruit jelly or syrup.
Its use in cooking is mostly every day in Florida, where the orange blossom is the official state flower.
2. Cosmetic
Floral hydrosols, such as orange blossom water, can find in a wide variety of skin creams and toners, as they help hydrate dry skin and soothe pain in burned or sensitive skin.
Since it contains hydrophilic properties, it acts as a humectant and emulsifier to enhance the application of lotions and other cosmetics.
Haircare products such as shampoo and conditioners may contain it, which improves the hair's condition and gives it shine.
Hydrosol also values for its delicate scent, which blends well with other botanical fragrances.
How to Make Orange Blossom Water at Home?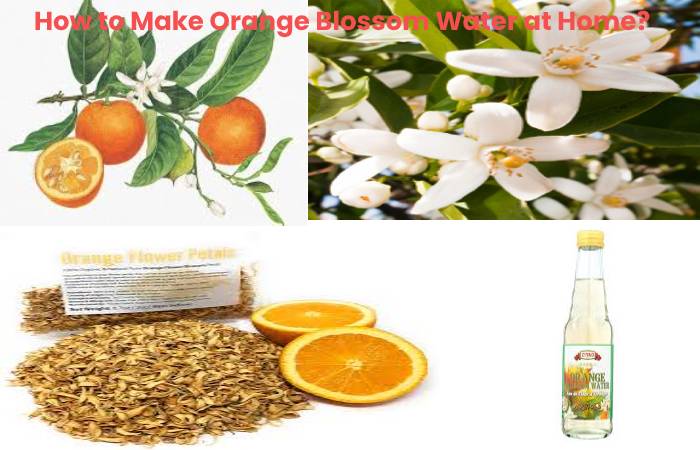 To prepare it, we must use the dried flowers. We will need 50 gr for half a liter of mineral water.
On the other hand, to take it as an infusion, both dry and fresh flowers serve us. In this case, we will use five flowers per person.
If we want, we can dry the flowers at home in a straightforward way. They are spread well on porous fabrics that allow air to pass through, or on metal trellises, a well-ventilated place in the shade.
First, we heat the water, bring it to a boil, turn off the heat after the first boil, and add the orange blossom.
We remove the flowers so that their essence dissolves in hot water.
We pour the content into a bowl and cover it with plastic wrap, let the contents rest in a shady place at room temperature for one whole day.
After 24 hours, we strain the water through a cloth strainer or with the help of gauze and store it in a dark glass bottle in the refrigerator.
We can obtain more it, doubling the quantities of the ingredients.
But they are always following the same proportion, for half a liter of mineral water, 50 grams of dried orange blossom.
Also Read: Pimples and Blackheads – How to Get Rid and Home Remedies