Pimples and blackheads are one of the headaches of teenagers and some adults. It is a widespread problem and, although it does not affect health, it aesthetically frowns.
Both pimples and blackheads can occur for many reasons, such as bacteria, exposure to pollutants, hormonal changes, excessive use of makeup, lack of hygiene, or excess oil on the skin.
Luckily, today, many treatments can help us combat these problems and achieve softer, oil-free, and smooth skin.
Today we want to share a cleaning routine and home treatments with you to combat pimples and blackheads more healthily and cheaply. Keep in mind that to get results, you need to be consistent with your application.
How to Get Rid Pimples and Blackheads?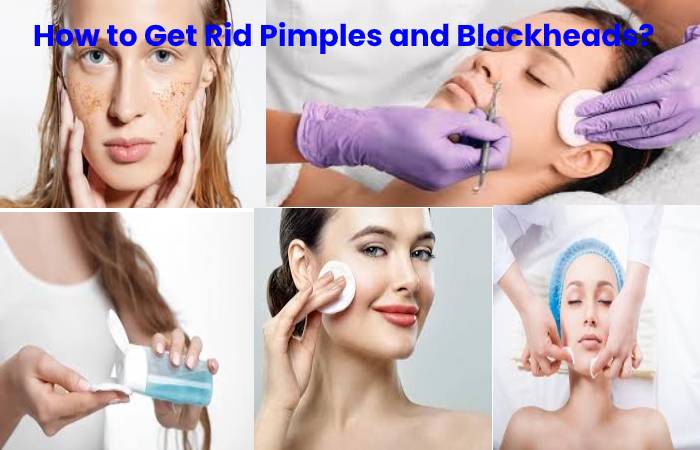 1. Cleaning Routine
Exposure to toxins and pollutants in the environment can make our skin dirty, even if we don't notice it.
As a consequence, pimples and blackheads appear more frequently.
In this case, it is convenient to wash your face very well in the morning and at night, in such a way that you remove all kinds of makeup, bacteria, dirt, and excess oil on the skin.
2. Apply a Natural Toner
The witch hazel can serve you as one of the best alternatives natural to industrial tonics.
This natural product works as a tonic and an excellent astringent for the skin, helping balance oil levels and dry out pimples and blackheads.
Use daily to keep skin smooth and clean.
3. Vaping Sessions
The water vapor helps to dilate the pores, making them open, and facilitating the dirt's exit that accumulates in them.
To do this, all we have to do is put water to boil in a large enough bowl and create a closed area with a towel's help.
You can add certain substances such as lemon mint to the boiling water to promote the toning process after steaming.
However, it is convenient to use a product that allows us to remove dirt from the pores once dilated thanks to steam.
A practical example could be preparing a green clay mask to apply after the session.
4. Perform an Exfoliation
Exfoliation is an essential step to combat pimples and blackheads and do a deep cleaning.
This step helps us remove dead skin cells and remove all kinds of dirt that can affect our beauty.
To make a homemade exfoliating cream, you can mix a little oatmeal with honey and massage the affected areas in a circular motion.
Remember the advice of dermatologists and be careful when exfoliating not to irritate the skin and damage the skin barrier.
Home Remedies to Remove Pimples and Blackheads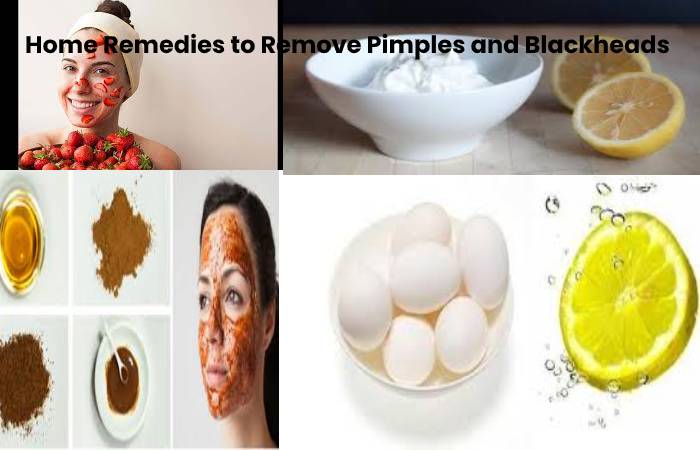 1. Egg and Lemon Mask
This powerful mask helps us fight pimples and blackheads since both lemon and egg white work as natural astringents. Immediately after applying this mask, you will notice your skin much smoother and cleaner.
Ingredients
1 egg white.
And also, lemon juice drops.
Preparation
Mix both ingredients and apply to face for 20 minutes or until dry.
Once this time is over, remove with warm water and repeat about twice a week.
2. Strawberry Mask
A portion of food as delicious as strawberries can also become an ally to combat pimples and excess oil on the skin.
Ingredients
5 strawberries
1 egg white.
And also,1 tablespoon of honey.
Preparation
Beat all the ingredients into a paste and apply it to your face with moistened skin.
Leave it on for 20 minutes and then remove it with warm water.
3. Yogurt and Lemon Mask
Together with their properties, the yogurt and lemon offer an excellent mask.
It will help us deeply cleanse the skin to combat blackheads and excess facial fat. As we mentioned earlier, lemon is a natural astringent.
At the same time, yogurt, thanks to its being an active substance, allows us to eliminate excess oil and eliminate clogging of pores that will lead to pimples.
Ingredients
2 tablespoons of plain yogurt.
And also,½ tablespoon of lemon juice.
Preparation
Mix both ingredients, apply the paste on the skin, and let it work for 20 minutes.
In the end, remove the mask with warm water and repeat this operation once a week.
4. Honey, Nutmeg, and Cinnamon Mask
This mask nourishes, hydrates, and exfoliates the skin. Honey has moisturizing and antibacterial properties, while nutmeg acts as an anti-inflammatory, and cinnamon as a natural exfoliator. Combining these natural beauty products in a mask is excellent for fighting blackheads and achieving a deep skin cleansing.
Ingredients
1 teaspoon of honey
1 teaspoon ground nutmeg
And also,1 teaspoon ground cinnamon
Preparation
Mix the ingredients in a mug until they form a chocolate-colored mixture. Put a towel around your neck – to avoid staining your clothes – and apply the mask to your face.
Let it act for 30 minutes, keeping the towel, as it can drain the mixture. If you have itching or discomfort on your face, you should wash and remove the mix quickly.
After 30 minutes, wash your face with warm water gently.
5. Chamomile Mask
Surely you knew that chamomile serves to lighten hair naturally. Okay, now you know another trick: it has disinfectant and anti-inflammatory properties that help us to the skin's health and beauty.
Ingredients
1 bag of chamomile tea
1 cup of water
¼ cup oatmeal
2 drops of olive oil
And also,2 tablespoons of natural honey
½ teaspoon cinnamon
½ teaspoon of nutmeg
Preparation
Make a cup of chamomile tea and let it cool. Put ¼ cup of oatmeal in a blender and turn it on until it forms a powder. Put ¼ cup of chamomile tea in a bowl and add the oats.
Add two drops of olive oil, two tablespoons of honey, ½ teaspoon of cinnamon, and ½ teaspoon of nutmeg. Stir. If your skin is susceptible, do not add cinnamon or nutmeg, as they are irritating.
To apply the mask, you must have your face freshly washed and dry. Gently massage the mask onto your face and leave it on for 15 minutes. Then rinse with warm water, and you will have your look with fewer pimples.
6. Masks for Oily Skin
Oily skin tends to suffer the most from pimples. Due to the excessive production of sebum that characterizes oily skin, pores become clogged, and thus the nasty blackheads or pimples appear.
In this way, with the following recipes, you can eliminate the skin's oiliness that causes the accumulation of spots.
Mix a teaspoon of brewer's yeast with 1/3 cup of plain yogurt until it forms a paste that you can apply to your face and leave for 15 minutes. Then rinse.
Mix two egg whites with a teaspoon of lemon juice until fluffy. Apply to face for 10 to 20 minutes and rinse.
Mix 1 tablespoon of lemon juice with two egg whites, three teaspoons of honey, and 1 cup of strawberries in a blender.
Let the mixture act on your face for 10 minutes and rinse with warm water. Apply these masks twice a week, and you will see how your skin improves.
Also Read: Chamomile Tea: Definition, Properties, Benefits, Recipes and More