Rosehip Oil Definition
Rosehip oil can help reduce stretch marks, keloids, scars, and wrinkles in the expression line. It has a powerful regenerating and emollient effect on the skin, rich in fatty acids such as oleic and linoleic acids.
This oil obtains from the seeds of the wild rosehip plant, which grows spontaneously in the Andes mountains of Chile and Argentina, and whose scientific name is  Rosa eglanteria L.
In addition to this, rosehip oil can reinforce collagen and elastin synthesis, deeply nourishing the skin and giving it firmness and elasticity. It is ideal for placing on dry or flaking skin, leaving it soft and silky.
What are the Uses of Rosehip Oil?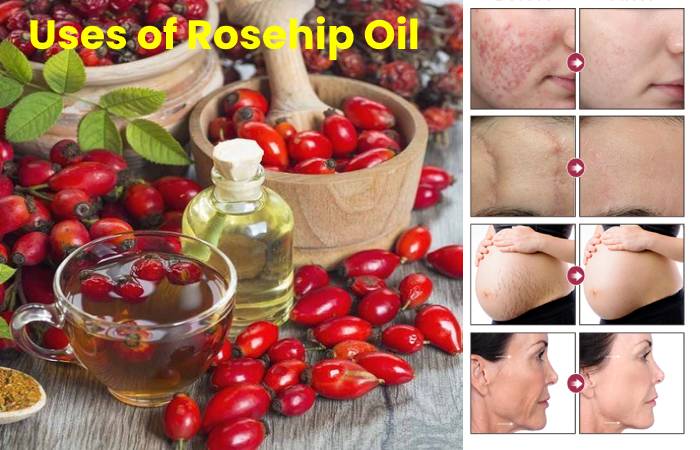 Rosehip oil is indicated for dehydrated and rough skin to promote its regeneration and can use in various situations such as:
Treatment of burns;
Suture healing;
Attenuation of old scars and stretch marks;
Ulcerations;
Diaper rash or also called diapers;
Psoriasis and dermatosis on the skin;
Dim and disguise wrinkles and fine lines;
Moisturize the skin;
And also, prevent premature ageing of the skin.
In addition to this, this oil can help prevent the development of stretch marks during pregnancy, for which it recommends to apply it at least two times a day.
Rosehip oil use, it is recommended that you apply a few drops to the skin, massaging in a round motion for 2 to 3 minutes until the skin completely absorbs the oil. The oil can be applied 1 to 2 times a day, mainly in dry areas or with scars, stretch marks, wrinkles, or fine lines.
In case it is used to prevent stretch marks, the dermatologist may recommend its application at least two times a day. It is workable to take advantage of rosehip oil to make a cream applied to the face or stretch marks.
What are the Benefits of Rosehip Oil?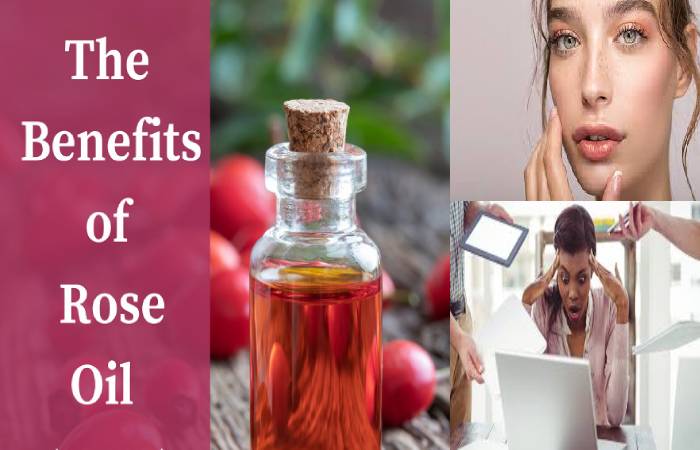 Rosehips have used for centuries, as far back as the days of Hippocrates. The various benefits of rosehip oil:
1. Vitamin C
Rosehips thinks to have more vitamin C than an orange or lemon. Vitamin C has antioxidant properties. Help reduce ultraviolet light harm caused by free radicals.
Vitamin C also supports collagen production, helps reduce wrinkling. Finally, vitamin C increase wound healing and helps stop dry skin.
When Great Britain could not import citrus fruits during World War II, the government encouraged people to collect rosehips. The rosehips make it into a syrup that distributes to people as a source of vitamin C and other nutrients.
When choosing rosehip oil for skincare, keep in mind some vitamin C may cause loss during the oil extraction process. And also, vitamin C is water-soluble and doesn't store. It makes it difficult to know exactly how much vitamin C is in rosehip skincare products.
2. Vitamin A
It contains vitamin A, which may benefit your skin by:
Reducing and reversing sun damage
Reducing wrinkles
It reduces hyperpigmentation
And also, treating mild to average pimple
Rosehip oil reduces the coming of scars and stretch marks. But there is no scientific evidence to back up the claim. It may be due to vitamin A, vitamin C, and fatty acid content of the oil.
3. Osteoarthritis Relief
Rosehip oil is a folk remedy for arthritis and joint pain. Rosehip powder reduced osteoarthritis pain better than placebo with no adverse side effects.
Osteoarthritis is a type of arthritis. It occurs when the cartilage on the ends of your bones wears away. The positive results from rosehip oil may be due to the polyphenols and anthocyanin in the oil, which reduces inflammation and joint pain.
The anti-inflammatory benefit makes a good option for people who cannot take nonsteroidal anti-inflammatory drugs (NSAIDs) or other pain medicines.
4. Lycopene
Rosehips are a significant source of lycopene. Lycopene is an antioxidant that helps protect from skin-damaging free radicals.
And also, lycopene-rich products help protect skin from the sun.
5. Stress Reduction
Rosehip oil has an intoxicating scent and uses in aromatherapy.
They are inhaling rosehip oil reduced autonomic responses such as systolic blood pressure, blood oxygen saturation, and breathing rate.
Also, participants were calmer and more relaxed than those in the control group.
Which Cosmetics have Rosehip Oil?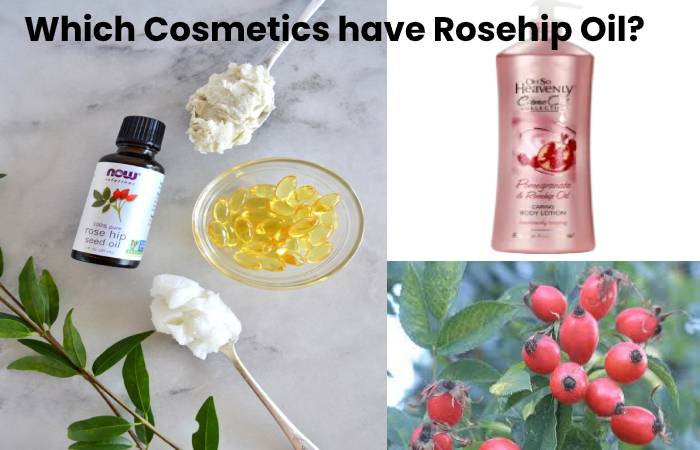 In the solidarity shops and the  Oxfam Intermón online store, you can buy these products, go much further from being only beneficial for the skin thanks to their ingredients. They also contribute to better the quality of life of women.
1. Night Face Cream
It combines rosehip oil with Ginkgo Biloba extract and green tea. It adds to the former's effectiveness to combat wrinkles and blemishes on the skin, the antioxidant and anti-inflammatory power of Ginkgo and tea.
2. Handcream
With grapeseed oil and jojoba oil to soften and moisturize the skin.
3. Body lotion
With rosehip oil, jojoba oil, and grape seed oil, freshness accompanies by a citrus aroma.
Side Effects of Rosehip Oil
Side effects of rosehip oil are rare, though an allergic reaction is possible. And also, allergic reaction symptoms may be mild and may include:
Rash or hives
Difficulty breathing
Rapid heart rate
Dizziness
Congestion
Itchy, watery eyes
Wheezing
Chest discomfort
And also, Anaphylaxis.
To limit your risk of an allergic reaction, do a skin patch test before using it. Start applying rosehip oil on your wrist, elbow, or jawline. And cover the area and leave the oil on your skin for one day. If no rash happens, you're less likely to be allergic.
If you experience irritation, wash thoroughly, and do not use it again, anger is severe, call your doctor.
Risk Factors of Rosehip Oil
Rosehip oil generally considers safe when used topically for a short time under your doctor or natural health practitioner's supervision. It does not recommend internal use.
This oil is not well-studied or recommended for use by children, pregnant women, or breastfeeding women.
In some cases, vitamin C isn't right for you. Whether you have any of the following problems, do not use without a doctor suggest:
Diabetes: vitamin C may collision diabetes control.
Kidney stones: If you take significant amounts of vitamin C, increase kidney stones.
Anaemia:  Vitamin C may affect your body absorbs iron.
Any forms of rosehips may increase your bleeding risk. And also, stop using two weeks before surgery or blood clotting medication.
How to Prepare Homemade Rosehip Oil?
To make rosehip oil at home.
1. Nourish and Brighten the Skin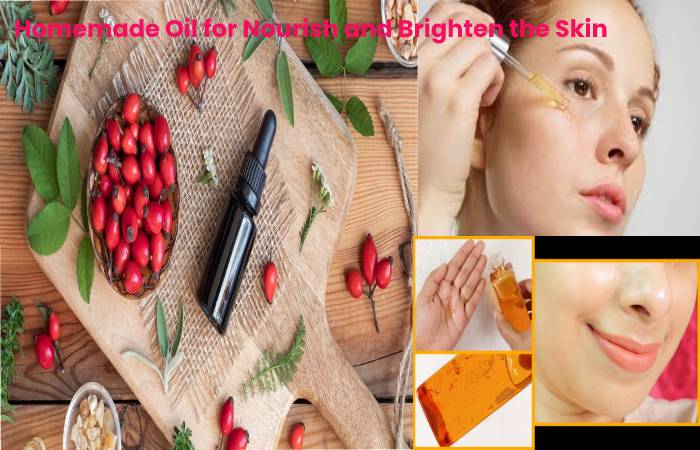 Ingredients
30 or 40 grams of Rosehip seeds;
Almonds oil;
Glass jar or jar with lid;
And also, dropper bottle.
Preparation
Begin by removing the edges of each of the seeds with a knife, cutting them in half to expose their content, and adding them to the glass jar.
And also, add the almond oil until all the bases are covered.
Cover the pot and let the mixture relax for approximately 20 days.
And also, after that time, it should be strained and placed in a bottle with a dropper.
How to use
It recommends applying a few drops of the oil to the skin 1 to 2 times a day, especially in the driest regions or those with scars, stretch marks, wrinkles, or expression lines.
This oil can also purchase in a pharmacy, herbalist, Para pharmacy, natural products store, in some supermarkets, and online stores.
2. Anti-wrinkle Cream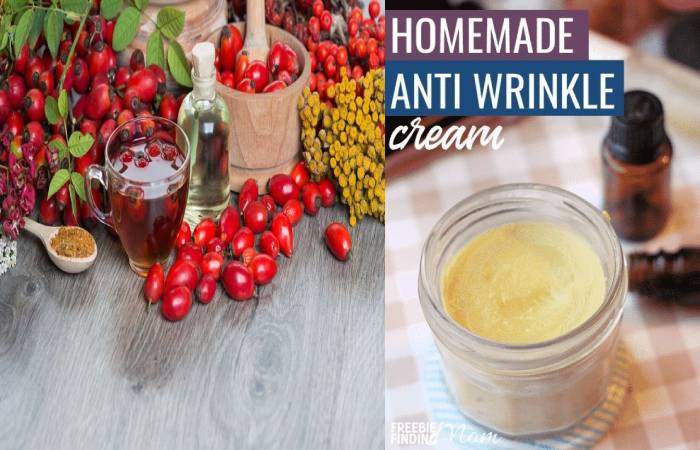 Rosehip oil can also prepare a homemade anti-wrinkle cream, which hydrates, softens, and stops the coming of wrinkles and fine lines on the skin. To prepare this cream, you need:
Ingredients
5 ml of Rosehip essential oil;
20 ml of coconut oil;
30 ml of beeswax;
One ampoule of vitamin E;
And also, glass jar or jar with a lid.
Preparation
Take the coconut oil and beeswax in a pot and heat in a water bath, regularly mixing with a spatula, until the two ingredients are mixed. Then add the rosehip oil and the vitamin E vial, mix well and let cool. And also, store in the refrigerator.
This cream can apply to the face several times a day as needed and should be used mainly in the morning and night before going to sleep.
In addition to this, to make the cream more liquid, it is possible to add 30 mL of coconut oil and 20 mL of beeswax.
You prefer the cream with more consistency, add 40 mL of beeswax and only 10 to 15 mL of coconut oil.
Also Read: What is LISS Cardio? – Benefits, Types, How to Start, and More