The most unhelpful and potentially harmful attitude you can develop is one of body negativity. You are your body, and the sooner you come to appreciate how your body looks and functions, the more effectively you can work with your body to develop confidence, happiness and health.
Unfortunately, body positivity is not always easy to achieve. If you are currently struggling with body negativity, you might take advantage of a few key resources to change how you feel about your body now and into the future.
Your Doctor
Your doctor could be your most important ally in developing body positivity. Though the media might celebrate only a narrow range of body shapes and sizes, your doctor will happily tell you that there is a much wider range of bodies that are perfectly healthy and worthy of love and support. Your doctor might help connect you with other tools for achieving body positivity, such as a recommendation for counseling or connections to local body positivity therapy groups.
There is a small possibility that your doctor may want to help you lose some weight to ensure that you reach a size that will make it easier for you to maintain proper health. In that case, your doctor will be able to prescribe medications like Ozempic for weight loss and guide you toward diet and exercise regimens that will allow you to thrive while dropping unnecessary pounds.
Your Social Media
Research shows that social media is incredibly harmful to users' self-image, so in truth, the more you can stay away from social media, the better. However, because social media is such an important element of modern life, you might not be able to keep the apps uninstalled for long.
Instead, you might harness the power of social media to bolster your body positivity journey. There is a vast body positivity community on almost every social media platform, and by connecting with creators and influencers associated with the body positivity movement, you can ensure that your social media is filled with positive messages that build your body confidence and sense of self-worth. Some of the best social media accounts to follow include:
Jassamyn Stanley
Zach Miko
Dana Falsetti
Em Ford
Michelle Elman
Keah Brown
Bruce Sturgell
Jess Weiner
Podcasts
Though you cannot alter the media messages regarding body size and shape that you receive through online ads, billboards, television commercials and more, you can try to counteract them with enlightened and inspirational messages of body positivity. There are many podcasts that release content on a weekly basis, providing you with exciting and interesting new ideas related to building and maintaining confidence in your own skin. Some of the most highly rated podcasts to help you accept and love your body include:
Maintenance Phase
Eat the Rules
Yes & Body Politics
Affirmation Pod
She's All Fat
Food Heaven Podcast
Books
If you want to dive deep into the world of body positivity — from the systems that keep people feeling badly about their bodies to the best tools and tactics for developing radical self-love — you can do so through books. Fortunately, more and more body positive messages are being published every year, so you should be able to find more than a few reading options at your local library or bookstore. Some of the most critically and audience-acclaimed books about body positivity include:
"The Body Is Not an Apology" by Sonya Renee Taylor
"You Have the Right to Remain Fat" by Virgie Tovar
"Shrill: Notes From a Loud Woman" by Lindy West
"Body Kindness: Transform Your Health From the Inside out and Never Say Diet Again" by Rebecca Scritchfield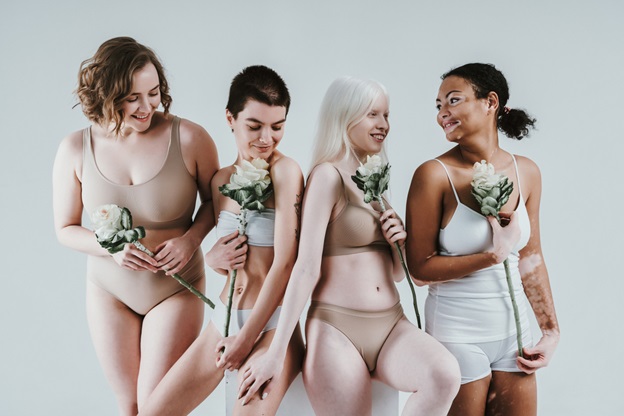 Blogs
Many experts and influencers in the body positivity space connect with their audiences through online blogs. Blogs can contain all sorts of useful information, from beginner's guides to develop body positivity to histories of the body positivity movement to the latest news and research regarding nutrition and health. You might subscribe to some of your favorite blogs to receive updates in your email inbox. If you are looking for some of the best body positivity blogs, you might investigate the following:
Stephanie Yeboah
Dances With Fat
The Body Positive
Glitter and Lazers
Adios Barbie
Crisis Networks
Many people on the journey to body positivity experience setbacks that can make them feel hopeless. When you feel poorly about your body and yourself, you need to be able to call someone who can reinforce your commitment to developing confidence in your current form. Some useful crisis networks that are always available to you include:
The National Hopeline Network: 1-800-SUICIDE
Mental Health Crisis Hotline: 1-800-273-TALK
You are not alone in your feelings of body negativity. Fortunately, there are plenty of resources to help you overcome your dangerous thoughts and emotions and find comfort and confidence in your body.