CBD Products – CBD has gotten hyped lately, but is there any wonder why? The famous compound of the hemp plant managed to win people's hearts with its countless therapeutic properties and also range of products that is just unbelievable.
When it comes to CBD, there is no doubt that there is something for everyone. Besides the classic vaporizers, tinctures, and gummies, CBD has a vast range of products, including oils, topicals, capsules, and skin care products, from treatments to bath bombs. Even toothpaste and toothpicks contain CBD. Also, a great variety of CBD powder flavors make for the most delicious recipes. Not yet convinced? Wait until you read the following lines.
You would be thrilled to discover that the CBD market size reached $12.8 billion in 2021, and more than that, it is predicted to exceed $21 billion between 2022 and 2028. People turn to cannabidiol for various reasons, but one of the most significant is how it makes them feel.
CBD is undoubtedly quite popular nowadays, so let us see why and delve into the different types of products with CBD on the market. Grab a snack!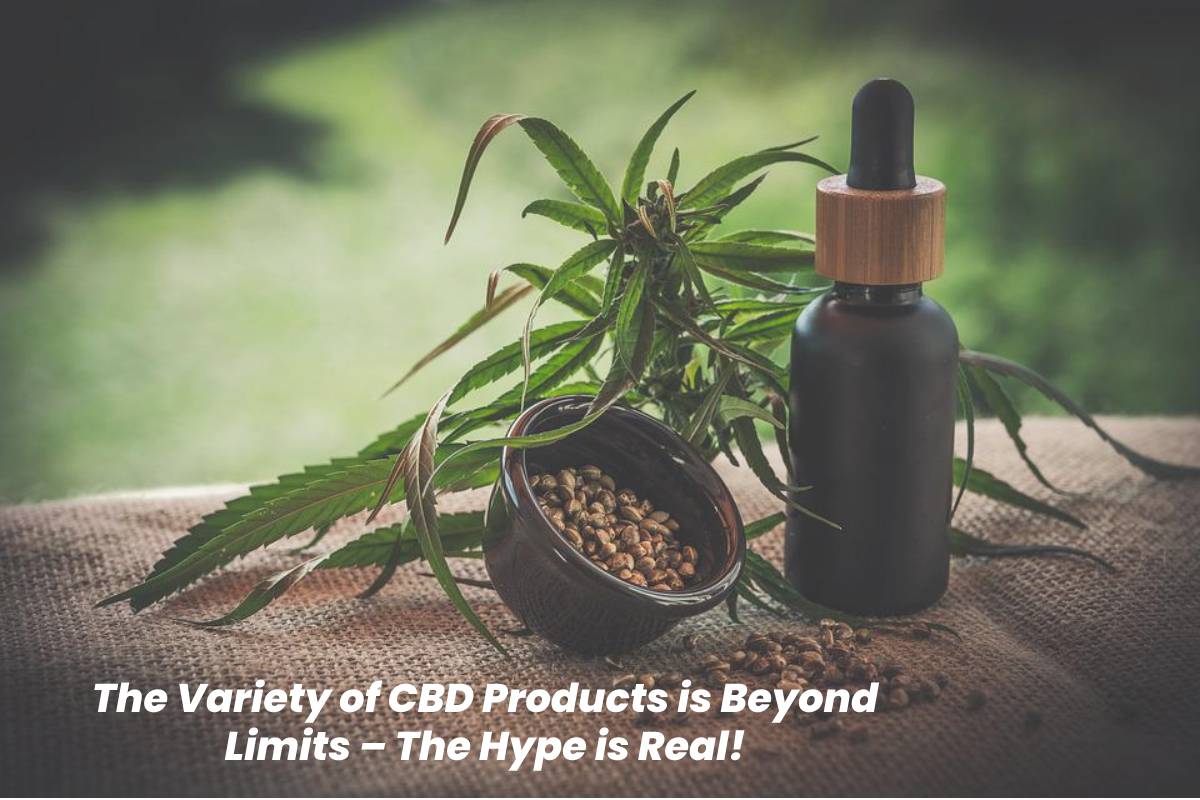 So, what is exactly CBD?
For any knowledge gap, CBD is one of the over one hundred cannabinoids found in the hemp plant (Cannabis Sativa). It has become known due to its health benefits but also due to its non-psychoactive properties. You might have heard about THC, one of the most prevalent compounds in this plant; well, it is a psychoactive cannabinoid that, once taken, can give what most individuals would call "hype." But many people want to avoid this sensation, one reason CBD is so sought after in the present day.
Every industry has its challenges and opportunities, but I believe that the CBD industry is in a unique and crucial position. As a substance that was federally illegal prior to the passage of the 2018 Farm Bill, hemp-derived cannabinoids containing no more than 0.3% THC still face a regulatory gray area. This ambiguity creates a host of new challenges in product financing, marketing, and manufacturing. But at the same time, the industry and the market are growing incredibly fast.
CBD companies have a role to play in seizing this opportunity and overcoming significant obstacles. As the founder and owner, here are my thoughts on critical development issues in my industry, along with predictions of what's to come.
CBD skin care products
It might sound a bit unusual, but trust us, CBD skin care is here, and it is incredibly varied. Cannabidiol is an active ingredient in products such as oils, lotions, creams, ampoules, and serums. Due to its anti-inflammatory and antioxidant properties, this compound is beneficial even for the most sensitive skin types, including rosacea. CBD is helpful for numerous skin conditions, including acne, wrinkles, psoriasis, and eczema. Brands started to integrate it within their range of products so that it can be found today as an active ingredient in famous brands' products like Paula's Choice and Kiehl's. Major skincare brands bet on CBD's properties, and we can only relate.
The way in which CBD works is through the cannabinoid receptors in your body. These receptors can be found in the layers of your skin, which can announce to the body when a potential itch or pain makes its way. This might explain how topical CBD helps with pruritic skin conditions such as eczema. But the benefits of CBD for skin are much more than that. CBD serums, masks, creams, and oils can be useful in:
calming rosacea

hydration

decreasing hormonal conditions

diminishing breakouts

reducing lipid production from the sebaceous glands

neutralizing free radical damage

treating inflammatory acne
Oils and tinctures
These products fall into the category of sublingual consumption and are some of the most preferred among consumers. Their unicity is given by their ability to be absorbed into the bloodstream more rapidly than other CBD products. Thus, if you take CBD sublingually, you are more likely to feel its properties and indulge yourself in a state of relaxation than if you take it another way. Most tinctures and oils come in bottle sizes varying from 1 ounce (29.5 ml) to 4 ounces (118.2 ml). You should also have a dropper designated with dose amounts, so determining the dosage you need would be easier.
Vapes and smoking flower
A classic that would never go out of style! Smoking CBD is perhaps the most common consumption method, as the individual can enjoy the CBD properties faster than with other consumption methods. The same is true for vaping. The difference is that heat is applied another way during vaping, retaining a more significant amount of CBD when heated. No matter your preferences, you can find both vaporizers and smoking flowers, as well as smoking accessories in a wide range, so if you prize vaping and smoking above other methods, feel free to buy such products. Manufacturers like Simply Green provide a great diversity of products, including vaporizers, terpenes, and pipes.
Edibles
CBD-infused beverages and foods are so vast that you would find it puzzling to find something. Fortunately, you can try them all and then decide on which one best aligns with your taste and needs. CBD can be found in various products that will blow you away with their flavor, from cookies, candies, and brownies to honey and tea bags. If honey is your thing, but you hesitate to purchase a CBD variant, we assure you there is no need to weigh things. Honey containing CBD has just the same benefits as classic honey, including antimicrobial, anti-inflammatory, calming, and wound-healing properties. "What about the price?" It is more affordable than you imagine. Plus, many manufacturers sell CBD honey wholesale at a reasonable price, so if you run a business that involves CBD-related products, consider opting for wholesales edibles. Your customers can now enjoy the best of the best when it comes to CBD.
Gummies and capsules
Although these can be categorized as edibles, we want to give them special attention. Capsules and gummies are taken orally, but unlike other forms of CBD, they are more practical and versatile. Plus, they do not taste like anything, which makes them more preferred among consumers who are for a subtler and milder CBD experience. One of the most significant advantages of gummies and capsules is that they come in an exact dose. Thus, consumers can take CBD without the worry that they can exceed the recommended dosage anytime and anywhere. The only thing we want to clarify is that the CBD absorption with capsules and gummies has a delayed release because it has to be processed by the digestive system first.
As you can see, you have plenty of products to choose from, so whatever your preferences and needs, you are likely to find something that suits your taste.