Tips on Choosing Lash Extensions
Long, lush eyelashes are the dream of many women. They emphasize the eyes, make your face more attractive, and generally affect the overall self-confidence. Many products on the market can boost the appearance of natural lashes. But these are all temporary solutions because you have to use or apply them every day.
Visit this source for more details on natural methods on enhancing your eyelashes:
https://www.bebeautiful.in/all-things-skin/everyday/how-to-grow-eyelashes
If that sounds like too much hassle, eyelash extensions are the solution for you. Most beauty salons offer several methods for this treatment, depending on your desires, face shape, density, and strength of your natural lashes. So choosing the right extension can either make or break your look.
Why You Need It
Eyelash extensions are most often an addition to full makeup. Ladies usually wear them on special occasions when they want to add a touch of glam to their look. But some women would wear false lashes every day and thus spare themselves from putting on heavy makeup.
You'll opt for a more natural appearance if you put on makeup every day. But if you are going to a party or music festival, you may want a more dramatic look with thicker extensions. For occasions like weddings or anniversaries, you might want eyelashes to 'soothe' your face for a more romantic look.
Also Read:- Attractioner
Length
A rule of thumb is to choose lashes about 3 to 5 millimeters longer than your natural ones. They will give you the airy look you desire. Anything longer than that can ruin natural follicles and prevent the growth of new, strong eyelashes.
You shouldn't try to prolong your lashes at all costs. If they are thin or fall out too easily, the extension will fall off quickly. So you'll end up wasting money. Instead, you should go for shorter lashes that will add volume and thus make your natural ones longer.
Material and Color
The materials of false eyelashes are silk and mink, which can be synthetic and faux. They differ in diameter, flexibility, durability, and price. Find more info about them on this page.
Besides material, think about the right extension color. It should match your hair, eyes, and browns. Of course, you can never go wrong with dark brown or black, but green, purple, or turquoise can be a score if you'd like to experiment.
Thickness and Volume
The extension thickness will depend on the effect you want to achieve. Also, the stylists determine the health and capacity of your lashes. They will suggest anything from 'one-on-one' extension to 6D (6 false hair on a single natural). The first method provides the most natural look as it only prolongs your eyelashes, while the latter adds up the volume.
A vital thing to consider is the extension diameter (usually from 0.05 to 0.15mm). Too thick lashes don't look natural. But too thin extension won't give the desired effects. So it's important to discuss what to do to make you happy with the results. In any case, a false lash shouldn't be thicker than three natural hair. You don't want that dolly look at all costs.
Curl Type
You should also consider the curl type. A C-curl is a popular choice for most ladies. Double-C and D-type provide a more dramatic look. L-curl is fine if you have hooded eyes or your natural lashes downward.
Find Experienced Stylist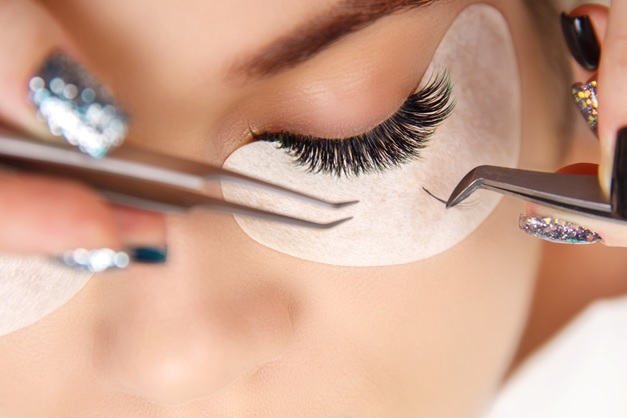 After knowing what you want from lash extensions, think long-term. For example, you should also consider whether or not you'll need to get them refilled every two weeks. In any case, finding an experienced and reputable stylist is a must.
Stylists will listen to your desires, but they'll also suggest the best options. They have a better insight into your face, eye shape, and lashes. They'll also find the best solution with extensions that matches lash angles on both eyes, as these can differ.
The right eyelash extension can be a cherry on top, whether you want a dramatic look or just something to enhance your everyday makeup. It must be of the proper length and thickness to blend in well with your natural lashes. So consider several factors to avoid looking messy and with irritated eyes.