Hair Extensions: The decision of which method works best for you is key to getting the hair of your dreams. Nano rings and I-tip hair extensions are growing in popularity, but what's the difference? Be sure to read this article to learn the critical differences between the two and get a better idea of which works best for you!
Which will work best for you?
Both methods are effective and guarantee a seamless result, but which option you should go for ultimately is determined your hair type, your hair goals and what exactly it is you're after.
Do you have thin hair and therefore are looking to hide your extensions as well as possible? Are you looking for something that requires less maintenance? Nano rings will work best for you!
Do you have medium-to-thick hair? Are you after a natural, yet cost effective option? I-tip extensions is the better option for you!
Check out the exclusive Clip Hair reader offer for 10% off Tape Hair Extensions, just type in 'TAPE10' on the cliphair.co.uk site to get the offer when purchasing anything from the tape hair product section.
What are Nano Ring Hair Extensions?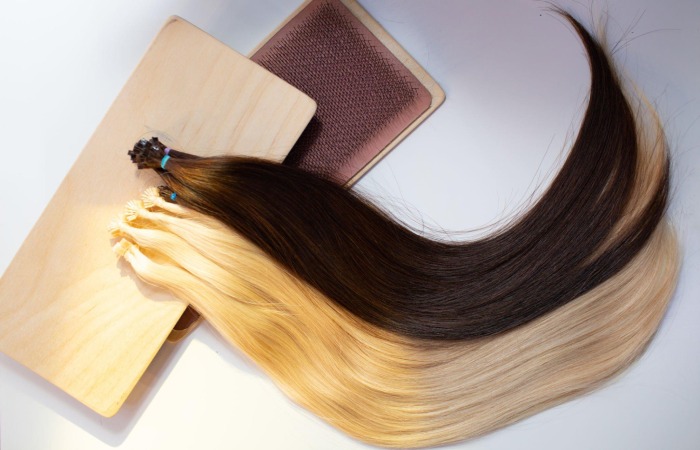 Nano ring Hair Extensions are an innovative, heat-free way to secure hair extensions. Your stylist will insert a nano-sized metal ring onto your natural hair, soon to be fitted with [hair extensions]. The metal ring is clamped shut, creating a secure and sturdy extension.
This application method is expected to last 3-4 months with recommended maintenance every 8 weeks. Because of their size, nano rings can only be fitted with hair extensions with a nano tip, allowing the extension to blend well with your natural hair due to the discreet size of the ring, regardless of hair colour and texture.
Looking for the perfect jet black to blend with your natural hair? We recommend the discreet, double drawn nano ring hair extension that will blend well with darker hair colours.
Looking to find out with your new luscious locks? Double drawn nano ring hair extensions in #16/60 ensure that your locks stay in place all day, and go undetected for as long as you maintain it without compromising on affordability!
Dreaming of the perfect chestnut brown extensions? The double drawn nano ring hair extension in light/chestnut brown can ensure a discreet, yet luxurious result to achieve the style of your dreams.
What are I-tip Hair Extensions?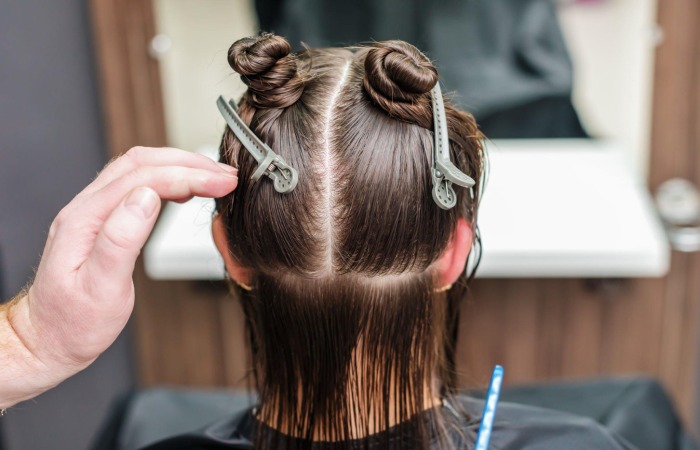 Similar to nano rings, I-tip [hair extensions] are a cold fusion method that does not require any heat. The I-tip fitting method uses a metal ring lined with silicone to fit the extension in, securely clamping shut once done.
I-tip [hair extensions] are expected to last around 3 months with recommended maintenance every 8 weeks. Like nano ring hair extensions, I-tip [hair extensions] blend well because of their single strand application.
Looking for the perfect light brown and blonde combination hair extension to blend in with your natural hair? The I-Tip pre-bonded hair extensions in #18/613 guarantees length in a discreet manner without having to use any heat – yes you heard right!
Searching for the perfect match to your medium-to-thick, natural black hair? We recommend the I-Tip pre-bonded human [hair extensions] in #1B. Still you, but on a good hair day.
Looking to add high volume and length to your bleach blonde hair? The I-Tip pre-bonded hair extensions in #613 will blend seamlessly with your hair like it's not even there!
Micro Ring Hair Extension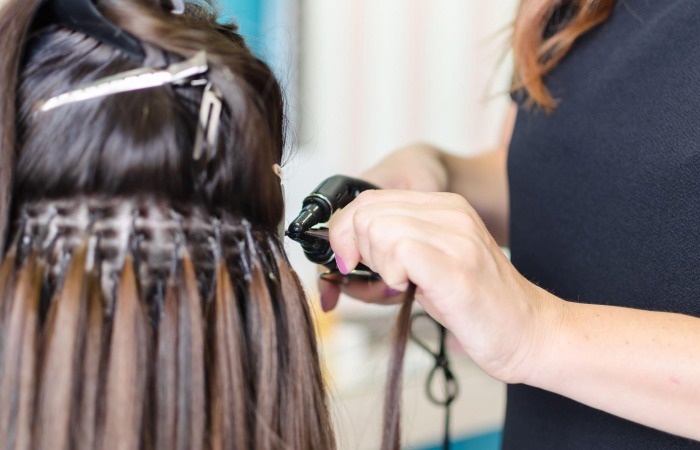 Micro ring hair extension is the most popular hair extension method. It is the best way to add volume and extra length to your hair. When the micro ring is place, they secure it with your natural hair. The rings are small, and they can put in your hair.
Micro ring hair extension applied in a horizontal row. You can reuse them, and it is damage-free. It is the longest-lasting method of hair extension.
Also, it is the safest type of hair extension as it is not added glue, and these extensions are chemical-free. To remove the extension, open the ring and remove the hair. You can wash your extension after three days of fitting, and you should not wash it within the first 48 hours.
Micro Ring
A micro ring is a small metal ring attached to your natural hair for hair extension. Micro rings come in different colours that are not visible through your natural hair. Micro rings apply without glue, and it is chemical free. The micro ring will last for 3 to 4 months without maintenance.
Nano Hair Extension
Nano hair extensions are 90 per cent smaller than micro ring hair extensions. It is more comfortable to wear and attach to your natural hair. Nano hair extensions are best for those people who have thin hair.
It is very familiar to a traditional stick-tip hair extension. It does not need any heat in the attachment of the nano hair extension.
Nano hair extensions can last for 6 to 9 months. This hair extension method will reduce the damage to natural hair; it is a perfect choice for thin and fine hair. Nano hair extensions are available in 50 shades and 12 to 24 inches long.
But it requires regular maintenance on the health of the hair. While wearing nano hair extensions, avoid oil-based products to the roots of your hair.
What Is A Metal Loop Hair Extension?
Metal Loop Hair Extensions come with a metallic flap to thread the hair. The metal loop is an eco-friendly extension to attach the hair. The metal loop pulls the hair through a pre-attached copper ring. This extension lasts for 8-9 months.
This hair extension should be fitted and maintained properly. The metal loop extension is attached to the hair near the scalp using small silicone-lined cooper rings.
The metal Loop consists of a metal wire, a matte black finish and also JZ styles co logo. This metal loop is meant for different beaded weft techniques. These extensions are attached by fixing the loop in small sections of the hair.
These stay longer and don't require heat because it affects on hair breakage, hair loss, etc. This metal loop hair extension application needs highly trained and also professional technicians.
Types of Hair Extensions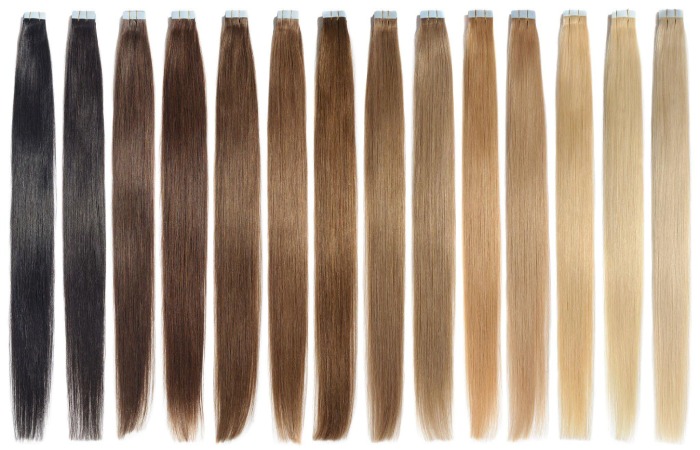 There are four types of hair extensions: tape, clip-in, bond-on, and halo hair extensions. And although they all share a common goal – to create long and luxurious hairstyles – they all differ in application, texture, and longevity.
Hair Extensions Tip Installation
Here we go with the tip installation of hair extensions. Each hair tip is secured with micro rings or cylinders to stand off your natural hair. This allows hair stylists to add length or color to a specific area per the client's requirement.
What Tools You Need Here
Pro Release tool
3 in-1 Pulling Needle
Micro Tube Rings
Plastic Tubes
Pro Fusion Tool
Loop Pulling Needle
Part Your Hair: To start with, use your fingers or a large comb to part the section of your hair where the clips will be placed.
Prepare Pulling Needle with the Micro Ring: Thread the micro rings onto the hook portion of a pulling needle.
Determine where to attach the Hair: Grab a section of your natural hair using the hook. Then, on the other hand, get ready to pull the hair through the micro ring.
Pull hair through the Micro Ring: While holding the micro ring with one hand, and use the other hand with the pull hook to pull the hair through the micro rings.
Inserting the Pro Tip Extension: After threading your natural hair over the micro ring, insert the Pro Tip Extensions between the micro ring and your natural hair.
Attach the Micro Ring: Slide the micro ring away from the scalp about 1/2 inch. Hold the ring and hair and close the ring tightly with the extension tool.
Reapply Pro Tips to Described Areas: Repeat the steps to apply Pro Tips to other areas until the desired look is achieved.
What are the Main Differences?
The key difference between nano rings and I-tip hair extensions is the size of the metal ring used to fit the extensions, with nano rings being 90% smaller in size compared to [I-tip hair extensions]. This allows you to more easily achieve a discreet, natural look regardless of hair texture with the former of the two. Another key difference is that nano rings cannot be refitted once applied.
Because of their small size, stylists will look to replace the extension entirely, unlike I-tip extensions which can be easily readjusted during maintenance.
Strand by Strand Procedure for Hair Extensions
The stand-by-strand hair extensions technique allows surgeons to master transplantation and create a natural hair replacement. A strand-by-strand hair extension gives proper alignment to individual hairs and is indistinguishable from a person's natural hair growth.
What is Keratin Bond?
Keratin bond is the same as the protein that your hair is made of,  Keratin bonds are a type of hair extension that is also called a bonded hair extension. These are made from natural hair that is meant to match yours without any major transition and has a sticky substance on one end. It instantly adds new life to your life. Keratin bond is also known as U- tips or keratin fusion.
Keratin is so comfortable you don't even feel them. The keratin is placed close to the roots so they remain unseen and blend well with your natural hair. You can be excited about your beautiful hair without anyone knowing that you are wearing hair extensions.
Heat Or Glue
Glue is probably one of the most effective and safe-to-use options. The glue beads work well for nail tip extensions as well as for tip hair extensions. These yellow keratin glue granules stick to the extensions when applied correctly.
The U-shaped keratin glue makes installation easy and secure. A low-heat iron is used to melt the glue and fixed the keratin bond to natural hair.
Ethically Sourced
Ethically sourced hair is essentially hair that has been donated or sold willingly for fair benefit. This hair can be cut and sold directly by the person or collected after it has fallen out during the natural hair growth cycle. Therefore ethics of human hair can be a tricky brand like a great length. Human hair is a luxury and ethically sourced wig.
Know the Best Application Methods For Hair Extension
The type of Hair Extension application method selected for the customer depends on his/her hair type, whether it is naturally thick hair or fine hair. It is also important to choose the method which best suits the customer's facelift. However, finding the best method for Applying Hair extensions to customers' hair type can be a difficult task. Always remember that all methods have different factors, such as quality, brands, craftsmanship, time span, warranties, budget, etc.
Hair Extension Application Methods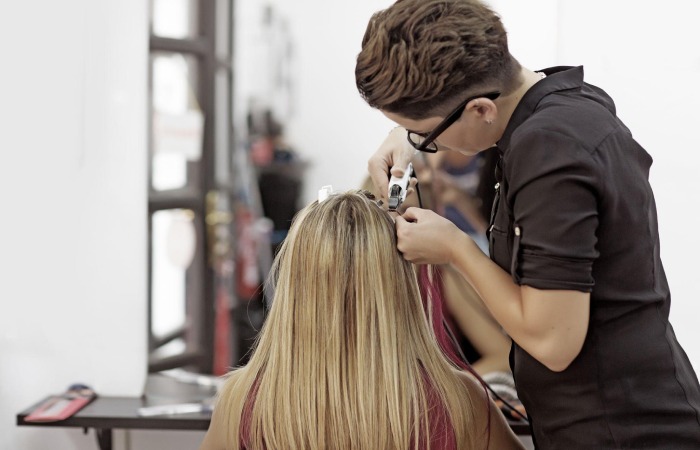 Here, you can find different application methods for hair extensions:
1.      Strand By Strand
The Strand by Strand method uses mostly 30-40 strands of hair extension. These are attached to your hair together at the end using polyutherane or glue keratin. In this, the small sections of the hair are attached with extension using a hot or cold fusion. This process refers to U-tip/nail tip, Micro links/Micro beads, flat tips and nano rings.
2.      Micro Links
The Micro Links application method includes various kinds of beads and loops to fix hair extensions using natural follicles. In this, a small-sized loop is used to take out some hair from natural hair, and then a micro metal bead is applied to lock and engage the extensions in the customer's hair. This application takes a maximum of 3 hours, and also these extensions are easy to remove.
3.      Tape In
The Tape-in hair extension method is usually double-sided or single-sided. It is one of the fastest extension methods and is great for flexible placements. It is reusable and lays flat on the head. Tape-ins are mostly Latex free.
These are applied using an organic paste in which the hair is placed between 2 wefts. It is suitable for all hair types.
4.      Sewn In
The sew-in method is commonly known as braided extensions or weave extensions. These are ideal for rough or thick hair. The customer's hair is finely braided to make a base for applying hair extensions.
Then, the hair strands are sew-in one by one in the braids by using a needle and a thread. This application method is mostly associated with cultural people.
5.      Clip-in/ Halo Hair Extension
The Clip-in Hair extension method is a quick, easy and temporary method. Customers who don't want to wear extensions daily can prefer this Clip-in hair extension. These are fine strands and sewed in with clips in the hair.
In this, the weft extensions are locked with clear fishing wire on your head like a hairband. These are applied using small sensitive clips. These are available in various styles, lengths, weights and colors.
6.      Wefts
The weft Hair extension method is sewn on natural hair. These are thick bunches which does not require heat. In this, individual sections of hair are tied in a small and also thin weft. This application provides coverage and full density.
These wefts are suitable for all hair types, especially thick, coarse and wavy hair. Usually, multiple colours are sewn in this method for a perfect colour match. Wefts are the thinnest and also most reusable.
Hair Extensions for Full Head
The Full head hair extension means attaching of maximum hair strands to cover the complete head. This is mostly applied on the head which contains thin hair. Therefore the ultra-fine hair needs more coverage to provide extra length and volume in the hair.
Hence, the hair extension for a full head needs 5-9 packs of hair, each containing 20 strands. If the customer has fine and also thin hair with shoulder length, it requires only 5-6 packs of 20 strands in each. But, if your customer has dense thick hair, it requires 10-12 packs of hair. However, the number of hair extension packages are required based on the thickness and length of the customer's hair.
Sometimes, The hair of the customer must be thick and also short. In that case, you need to apply more packages of hair extensions to blend the hair in a natural look all over the head.