Sometimes make us not want to cook something very elaborate or simply that we don't want to have a hearty and light dinner ideas.
Also, if we are doing a weight loss diet, we must take care of our dinners.
Since the calories ingested during dinner are not burned as those consumed the whole day.
Because having dinner too late can generate more substantial digestion.
We propose some ideas of light, productive and healthy dinners so that you can enjoy the summer.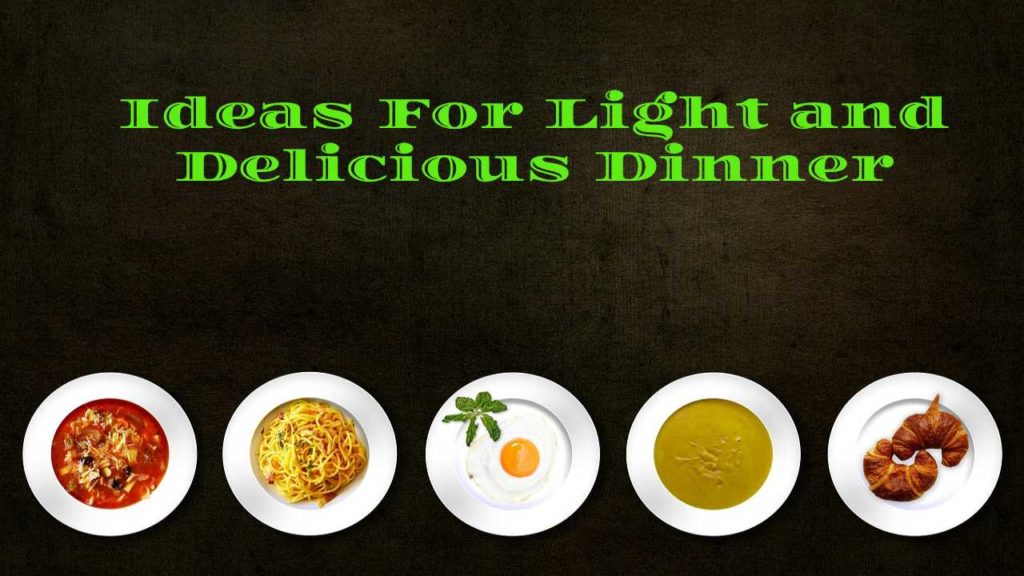 Tips And Ideas For Healthy Summer Dinner
Making a healthy salad is comfortable, light, and quiet, choose the ingredients.
We like the most (depending on above all on our type of diet).
Here are some ideas you can come up with:
Arugula and mango salad
Endive, mango and pumpkin seeds salad
Lettuce, strawberry and tuna salad
Tip: If our salads base on green leaves and vegetables.
Arugula or endive is lighter and more digestive leaves so that we can substitute them for lettuce.
Dining on toast is also an excellent way to eat light, quiet, and healthy.
Like the other recipes, we must take into account how we digest food.
Tomato, Avocado And Bonito Toast
It prepares a loaf of toast with tomato, avocado, tuna, chives, and olive oil.
It perfect for an appetizer or healthy light dinner.
Avocado Toast
Prepare these toasts, anchovies in oil and onion sprouts, comfortable and very fast.
Ham And Arugula Toast
Take Garlic toast with grated tomato, ham, and arugula.
Trick: If you are going outside after dinner, you can take this toast.
They are nutritious foods that will give us a lot of energy and stay sharp all night.
Milk and cereal have always link to breakfast.
They are also a great way to have a quick and light dinner.
Also, they are especially suitable to improve our digestion and help us sleep and rest better.
Juice And Oatmeal Cream
For light dining, there is nothing better than for oatmeal cream.
Oatmeal With Almond Drink
Take oat flakes, chia seeds, almond drink, yogurt, mango, and cookies.
And blend it.
Muesli And Yogurt With Soy
It is a simple breakfast, dessert, or light dinner idea.
Take Muesli, strawberry jam, soy yogurt, chia seeds, and blueberries.
It is an energetic, healthy, and vegan food.
Tip: For weight-loss diets, we can substitute animal milk for vegetable milk or use skimmed or semi-skimmed milk.
We will also moderate the number of cereals that we consume.
So as not to excessively increase the sugar levels.
Vegetable Creams And Soups
Vegetable creams and soups are great for when we want to eat healthy and fast.
It was suitable for weight loss diets.
Andalusian Gazpacho
They made from ripe tomato, bell pepper, cucumber, and olive oil.
Salmorejo With Boiled Egg And Ham
A traditional cold cream dish from Córdoba (Andalusia) that this time accompanied by boiled egg and Iberian ham.
Cold Watermelon Soup
A recipe for this soup is cooked quail eggs and sauteed fresh beans.
It is a dish similar to gazpacho, effortless to make.
Tip: We can leave them ready to consume at night.
We know that we will not have time to prepare a more elaborate dinner.
it is also a great option to eat nutritious when we are not hungry, or we have little time.
They are an excellent food for vegans and vegetarians.
Since most of their ingredients are fruit, cereals, and seeds, and milk can substitute for vegetable drinks.
Strawberry And Banana
Smoothie with almond milk, a delicious recipe in which we combine fruits.
Strawberry and macadamia nut
A  made with strawberries, nuts, and milk.
It gives off this energetic, healthy, and natural food.
Strawberry and orange smoothie
A made with strawberries, orange, and coconut milk.
Tip: You must bear in mind that the smoothie or smoothie you prepare will replace a dinner.
So it would help if you adapted its quantities to your needs.